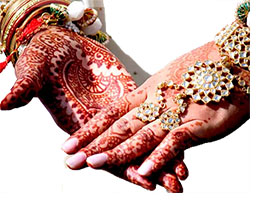 Under its Marriage Support program, Team TSB provides support for 3 different cases:
Wedding of a orphan girl residing in Gabol Goth. The mother is too old to work. There is no bread earner in the family.
Wedding of a girl whose mother works as a housemaid. The father has severe liver problem and is unable to work. The girl has 5 sisters and 2 brothers.
Wedding of a girl whose father survives on a single kidney and has diabetes. She has 3 brothers, 2 are married and live separately with their family. The only bread earner is the 3rd brother who drives a rickshaw occasionally and suffers from cancer.
We are thankful to
Ms. Afsheen, Mr. Fahim and Mr. Amin
for their support towards these cases. May 24, 2019
---
Under its Marriage Support program, Team TSB supports wedding of an orphan girl, residing in Surjani Town. They have no earning member in the family and find it difficult to make ends meet. We are thankful to Mr. Naseeb for his support towards the case ! April 23, 2019
---
Under its Marriage Support program, Team TSB supports wedding of a girl, residing in Korangi, having 4 female siblings and a brother. Their father is mentally unwell since some time and unable to work. We are thankful to Mr. Naseeb for his support towards the case !April 23, 2019
---
Under its Marriage Support program, Team TSB supports wedding of a girl, residing in Akhtar Colony, whose mother is a nurse. The mother is the only bread earner of the family. We are thankful to Mr. Naseeb for his support towards this case.April 18, 2019
---
Under its Marriage Support program, Team TSB supports marriage of rikshaw driver's daughter, residing in Korangi. The rikshaw driver is the sole bread earner of the family and has 2 sons and a daughter. We are thankful to Mr. Naseeb for his kind support towards the case !.April 16, 2019
---
Under its Marriage Support program, Team TSB supports wedding of a orphan girl, residing in Dalmia. She has 4 sisters, out of which, two are married, and a brother, too young to work. Her mother is the only bread earner in the family. We are thankful to Mr.M. Ismail for his support towards the case ! March 13, 2019
---
Under its Marriage Support program, Team TSB supports wedding of a girl, having 2 sisters and 2 brothers. The brothers are married and live with their families in a separate setup. Her sisters are busy in their education. The father worked as a guard previously but now is unable to work due to old age. The mother is the only bread earner working as a maid in a local charitable organization. We are thankful to Mr. Muhammad Ismail for his kind contribution towards the case ! March 10, 2019
---
Under its Marriage Support program, Team TSB supports wedding of a girl, whose father is a freelance painter, residing in Korangi. The girl is the eldest among 4 sisters and her father is the only bread earner of the family. We are thankful to Ms. Uzma Chishti for her support towards the case ! March 8, 2019
---
Under its Marriage Support program, Team TSB supports wedding of a divorced woman's daughter residing in Safura Goth . She has 2 daughters out of whom one is getting married and sons who are too young to work. We are thankful to Mr. Wahaj for his support towards the case ! March 6, 2019
---
Under its Marriage Support program, Team TSB supports marriage of an orphan girl, residing in Mehmoodabad. She has no source of income and her brothers and sisters support her. We are thankful to Ms Uzma Chishtifor her kind contribution towards the case.Feb. 19, 2019
---
Under its Marriage Support program, Team TSB supports marriage of an orphan girl, once divorced, residing in Korangi. Her mother is bed ridden and only a young brother works to support the family. We are thankful to Mr Ghazanfar Jawed for his kind contribution towards the case. Feb. 15, 2019
---
Under its Marriage Support program, Team TSB supports marriage of girl residing in Korangi. The family is of 7 members, father, mother, 4 daughters and 1 son. The father is the only earning member working as a laborer in a garments factory. We are thankful to Mr. Wahaj and Mr. Naseeb for their support towards the case. Jan. 23, 2019
---
Under its Marriage Support program, Team TSB supports wedding of a girl living in Korangi. The girl's father works as a cleaner and mother as a housemaid to make ends meet. She has 2 sisters and 2 brothers. We are thankful to our generous donors, Mr.Naseeb and Mr.Wahaj for their kind contribution towards the case. Jan. 15, 2019
---
Under its Marriage Support program, Team TSB supports wedding of girl who is one of 5 daughters in the family. 3 of them are married. The mother works as a housemaid to manage family expenses while the father is jobless. We are thankful to our generous donors, Mr. Naseeb and Mr. Wahaj for their kind contributions towards the case. Jan.14, 2019
---
Under its Marriage Support program, Team TSB supports marriage of a girl residing in Haji Ahmed Goth, Korangi. She is one of 11 siblings, 3 boys and 8 girls. The father is a milkman and all his 3 married sons work along with him. We are thankful to Mr. Naseeb for his support towards the case. Jan 13, 2019
---