The Social Bond Welfare Organization was officially launched and the first meeting held among its members on October 18, 2012 at A-56, Block 13D-1, Gulshan-e-Iqbal, Karachi, Pakistan
THE SOCIAL BOND SCHOOL SETUP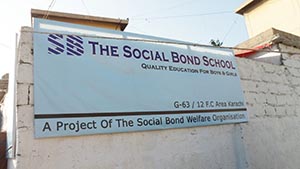 The Social Bond School was inaugurated on October 29, 2013 at G-63/12 FC Area, Karachi, Pakistan

Click For Pictures
INAUGURATION OF TSB SCHOOL CAMPUS 2 AT KORANGI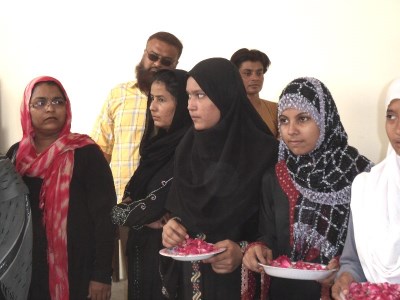 TSB School inaugurated its 2nd campus in Korangi at A-33, Bagh-e-Korangi, Sector 10 on 9th May 2014 at 5pm. This school is for students who want to pursue education in class 9th and 10th. Free of cost education will be provided to all. The chief guest at the occasion was Dr. Kamran, Dept. of Computer Science and Head Quality Enhancement Cell, Federal Urdu University. Syllabus was distributed among the 25 students who registered for classes. Our special thanks to Mr. Arshad Lodhi for his unflinching support to setup this campus.
INAUGURATION OF TSB SCHOOL AND CLINIC AT DALMIA
Inauguration ceremony of TSB School campus 3 and free clinic took place at Shantinagar, Dalmia on Sunday, 9th Nov 2014 at 4pm. Dr. Zaheer (Karachi University) and Dr. Sarah (Federal Urdu University) inaugurated the school and clinic respectively. Mr. Zeeshan Iqbal was the host of the program. Various members of the Social Bond team gave speeches at the occasion. Dr. Maria Qadri and Dr.Rakshanda, who would provide their services at the free clinic, were also present at the occasion. Dr. Maria Qadri performed the cake cutting.
INAUGURATION OF TSB SCHOOL NEW CAMPUS AT KORANGI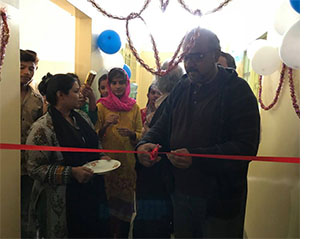 TSB School's new campus at Korangi was inaugurated on Sat, 26th Nov. Senior members of the Executive Committee, Administrator, Korangi campus as well as the Korangi campus staff was present for the inauguration. Vice-President TSB, Prof. Jahangir, cut the ribbon on this occasion. This campus accommodates more students and has better facilities than the previous campus in Korangi. We are thankful to all those who supported us in taking this step.

For Pictures Click

INAUGURATION OF TSB SKILL DEVELOPMENT CENTER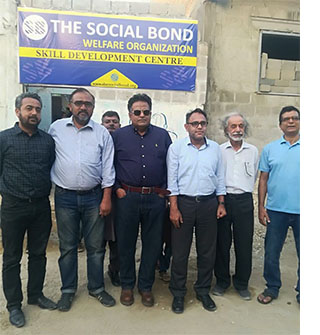 The Social Bond Welfare Organization Inaugurated Its 1st. Skill Development Centre at Bagh-e-Korangi, Sector 10, on 10th March 2018.
The Social Bond Welfare Organization inaugurated its 1st Skill Development Centre at Bagh-e-Korangi, Sector 10, on 10th March 2018. Prof. Saeed, Dr. Imran, Dr. Tanveer, Prof. Jahangir, Comdr. Saeed, Mr. Adeel, Ms. Naureen Irshad, Mr. Munawwar and Ms. Sania as well as other members of the TSB team were present on this occasion to inaugurate the centre. 19 computers have been setup where free computer classes will start including basic computer skills, web designing and development, programming in C#, Java,C++, MATLAB and PYTHON etc. In the coming weeks, other projects such as stitching, English language courses and adult literacy will also be launched InshaAllah. We are thankful to our donors who contributed for the setup of this Skill Development Centre.

For Pictures Click