Independence Day Celebrations By TSB Schools Aug. 14, 2014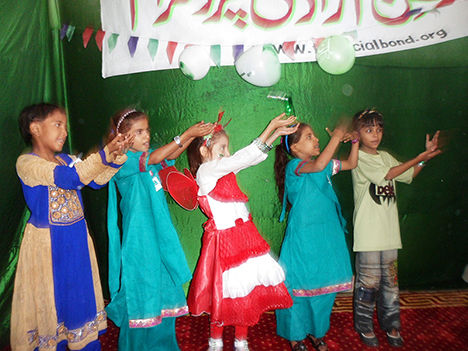 Independence Day Celebrations by TSB Schools Independence Day was celebrated with zeal and fervor by the
students and team of TSB School. Decorations, balloons and flags were put up at the venue (Adamjee Collegiate, Karimabad) as well as at the school campus to celebrate the occasion. A special program was arranged on 14th August from 4pm-7pm, which had performances by the school students. The students were briefed about the importance of this day. Tableau, singing songs, dancing, speeches, special prayers and drama were the main highlights of the program. Face painting was done too. Flags and refreshments were given to all kids. Students from both the campuses participated in the program. Ms. Almas and Ms.Dua were the hosts for the program. Closing notes were delivered by our Administrators of both campuses (Ms.Naureen-Korangi and Ms.Samina-FC Area). A special 14th August cake was cut at the end too. A special thanks to all our school teachers, administrators, TSB members and other workers for making this event a remembrable one.
Click For Pictures